Nutritious foods give your child the fuel they need to learn and play at school, but it can be hard to know what to pack to keep lunchboxes interesting, healthy and easy.
School lunchboxes don't have to be complicated or crafty. What's important is that they contain a variety of foods from all five food groups, plus water to drink.
What to put in a healthy lunchbox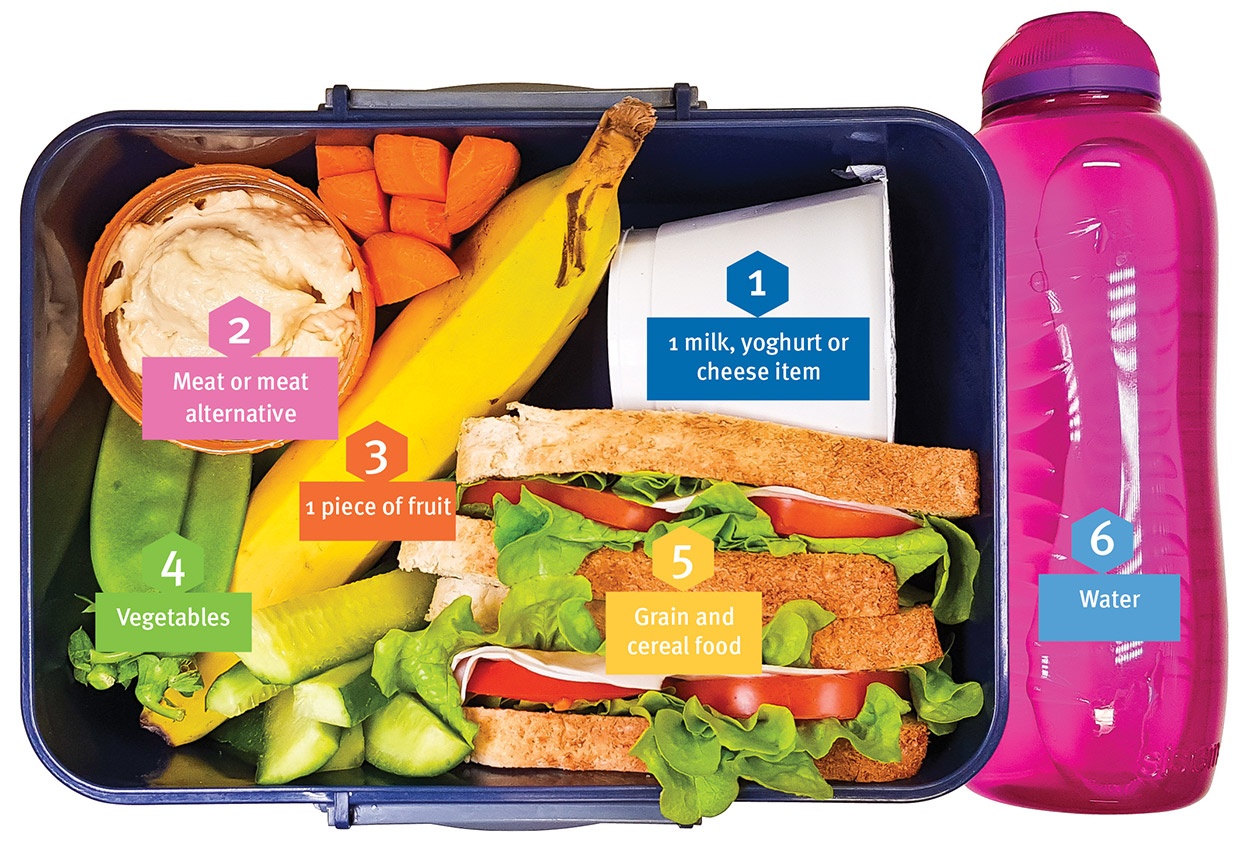 | Type of food or drink | Examples |
| --- | --- |
| Fruit | Fresh fruit served whole (banana, apple, mandarin) or cut up (orange quarters, melon chunks), a tub of fruit salad in natural juice, container of fresh berries. |
| Vegetables | Fresh vegetables (carrot/cucumber/capsicum sticks), cherry tomatoes) with optional veggie-based dips (hummus, beetroot, tomato salsa), salads, baked vegetables, vegetable slice, vegetable muffins or scones. |
| Dairy and alternatives | Small tub of yoghurt, cheese cubes, cottage or ricotta cheese, plain milk (all reduced-fat options). |
| Lean meat, fish, eggs and alternatives | Tinned fish, lean roasted or grilled meat, boiled eggs, falafel balls, baked beans, hummus dip, frittata. |
| Grains | Wholegrain wraps, rolls, and bread, pikelets, grainy crackers, and dishes that include pasta, rice, noodles, cous cous, or quinoa. |
| Plain water | Frozen water bottles in summer, and add sliced orange or strawberry for a hint of flavour. |
Download this handy list of lunch box ideas and pop it on the fridge.
Muesli bars, fruit roll-ups, chips, cakes, sweet or savoury biscuits, fruit juice and other discretionary foods aren't recommended for everyday eating, as they don't give kids the nutrition they need to learn and play at school.
Be mindful that many packaged lunchbox snacks are advertised as healthy choices, but they aren't always as healthy as you might think. Include these healthy lunchbox snacks instead.
If you're looking for lunch ideas, these websites are full of great recipes and lunchbox combos:
Packing a lunch your kids will actually eat
Get your kids involved in planning and packing lunches, with your guidance. They'll be more likely to eat it if they've helped plan it, and they'll learn important life skills in the process.
If some lunchbox items are always left untouched, find out why.
Can they open the containers?
Are the foods easy to hold, bite-sized, and portable?
Are the foods still appealing at meal times, or have they become too warm, too cold, soggy or sticky?
Are they bored and want more variety?
Are they filling up on 'sometimes foods' instead of eating healthy foods?
Variety is important for lunches. Children learn to eat foods that are familiar to them, so don't be afraid to mix things up at lunchtime.
Get organised
Try packing lunchboxes the night before school. This gives your child enough time to choose what they would like, and you can check that they have foods from all five food groups (plus water).
Safe lunchboxes
Food safety is very important for school lunches, especially if your child's lunchbox is stored in their bag all day.
Ideas to keep food safe include:
Include foods that can be kept at the right temperature
Add a frozen water bottle or use an insulated lunch bag to keep foods cool
Use a small thermos to store hot foods like soups and pasta
Store foods in reusable, leak-proof containers
Freeze foods that can thaw out before meal times (e.g. yoghurt, small muffin)
Encourage your child to start with foods that won't stay fresh all day (e.g. yoghurt)
When preparing and packing lunchboxes, remember to follow usual food safety steps like washing hands and using clean and dry equipment.
Did you know?
Many lunchbox items can be made in bulk and stored in the freezer. Why not make frittatas, savoury muffins and vegetable slices on the weekend so they're ready to go during the week.